Transfer Overlook: Preparing for the Transfer Experience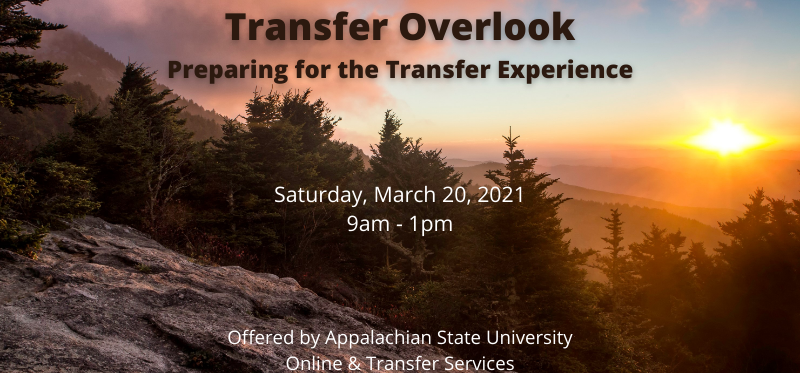 Saturday, March 20, 2021
9am-1pm
Offered by Online & Transfer Services
The transfer process can be complex. This virtual program will discuss ways for you to navigate transferring, adjusting and flourishing at any four-year institution:
while maintaining a healthy mindset,
creating crucial connections with peers and faculty,
provide insight and explain the benefits of academic opportunities, and
dive deeper into the experiences of students with various identities and the ways to build community
Current transfer students, faculty, and staff will facilitate the conversations with plenty of time for questions from participants!
All sessions will be recorded in case there are multiple sessions students are interested in offered at one time. Students will be able to access the recordings approximately a week after the event.
9:00 - 9:30am Opening Session: Transfer Success
This session will provide an overview of the day and tips for a successful transfer that all students should hear!
Presented by: Kim Morton (Online & Transfer Services)
Recording of Presentation
9:45am - 10:45am Session One
Healthy Minds
Presented by: Alex Howard (Wellness & Prevention Services), Alison Davis-Waddle (Counseling & Psychological Services)
Recording of Presentation
Transitioning to a new environment can be stressful. This session will explore the expectations and realities of what a transfer student may encounter in order to ensure students maintain a healthy mind, learn how to be resilient, and where they can find help on any transfer institution's campus.
Service to School
Presented by: Jennifer Coffey (Student Veteran Services); Jacob Hense, Cameron Lucas, & Scott Coulson (students)
Recording of Presentation
Veteran students may find an additional layer of complexity as they transition from the military to higher education or a community college.to a four-year institution. This session will explore the expectations and experiences of veterans and active military students along with the support and resources found among veteran students, from the university, and in the community.
Research Opportunities for Transfer Students
Presented by: Rebecca Battista (Office of Student Research); Dalton Sizemore (student)
Recording of Presentation
This session will discuss general research opportunities for transfer students, types of research they may be able to participate in, how to go about finding such opportunities, and the benefits research might have on a transfer student's career and educational goals.
Intercultural Community
Presented by: Marco Fonseca Rodriguez(Intercultural Student Affairs); Shyheim Stafford (student)
Recording of Presentation
Explore the various resources and support systems available to students with minortized identities and the importance of personal and academic development with those identities in mind. Learn how your transfer institution can help you grow as students and as individuals!
11:00am - 12:00pm Session Two
Mastering Your Craft: Graduate School
Presented by: Victoria Carlberg (School of Graduate Studies)
Recording of Presentation
Your education does not have to stop with a Bachelor's degree! Explore the avenues available for pursuing a Master's degree, including starting it during your Bachelor's degree, the various fields that require or highly prefer them, and your heightened opportunities upon completion of the degree.
LGBTQ+ Experiences
Presented by: Collin Helms (Financial Aid); Kat Ward & Augustino Persico(students)
Recording of Presentation
Through the lense of LGBTQ+ identified students, learn more about their experiences navigating transferring and finding their community at a new institution. This session will also include how to identify resources available at many institutions.
Go Global
Presented by: Mark Hagen (Office of International Education & Development)
Recording of Presentation
Learn more about the study abroad opportunities and how to get involved and start planning for your future. This session will include information about planning and timing for transfer students and how the current pandemic has temporarily changed education abroad.
The Power of Leadership
Presented by: Courtney Holder (Leadership Development); Brooklyn Chacon, Sam Hedrick, & Gabby Andux (students)
Recording of Presentation
The opportunities and experiences you have during your undergraduate career develop you as students, but they will prove even more useful in your future careers. Employers look for more than just your degree, so learn the many ways you can explore your leadership capacities during your time as a student.
Online Program Student Involvement
Presented by: Christy Lewis (Online & Transfer Services); Kaitlyn Helton (student)
Recording of Presentation
Students in online programs can learn more about online academic resources, balancing home/work/life obligations, and how to feel like a part of the institution's community without being physically present on campus.
12:15 - 1:00pm Closing: Transfer Transitions
Facilitated by: Kim Morton & Sam Shireman (Online & Transfers Services) Presented by: Transfer Student Mentors Lydia Crowe, Kara Shepp, Shyheim Stafford, and Russell Michaels
Recording of Presentation
In this closing session, Transfer Student Mentors will share their experiences with the transfer process, strategies and resources that helped them, and the benefits of academic and campus involvement. Attendees will also have the ability to ask the students questions.