March 14, 2019
Phi Theta Kappa Recognizes Exemplary Transfer Pathways
Jackson, Mississippi — Seventy-eight colleges and universities have been named to Phi Theta Kappa Honor Society's 2019 Transfer Honor Roll in recognition of the dynamic pathways they have created to support transfer students.
The Transfer Honor Roll recognizes excellence and success in community college transfer pathway development among four-year colleges and universities. Colleges were selected based on their Transfer Friendliness Rating, given to them based on the Transfer Profile they create and complete in PTK Connect.
PTK Connect is Phi Theta Kappa's online tool that helps students find their best-fit colleges, career pathways, and more. It launched in the fall of 2018. Students can search for colleges by name, scholarship offerings, or cost, and they can use the Transfer Friendly ratings to help evaluate where they'd like to enroll.
"PTK Connect and the Transfer Profile are one of a kind — no other resource specifically focuses on supporting transfer students and sharing data relevant exclusively to this population of students," said Christin Grissom, Phi Theta Kappa's Associate Vice President of Scholarship.
The Transfer Profile asks colleges questions about admissions practices, cost of attendance, campus life, recruitment practices, and peer reviews. It is meant to reflect what the transfer student experience is like at their colleges, as well as the strategies colleges are taking to support and enroll transfer students.
The profile immediately gives colleges a Transfer Friendliness Rating they can use to gauge how friendly their admissions and recruitment strategies are. The top 25 percent highest-rated colleges were named to the Transfer Honor Roll.
Through a new and unique partnership with the National Student Clearinghouse, colleges can have data from the Clearinghouse automatically populated into its Transfer Profile each year. Students can see some of this data on the colleges' profiles, enabling them to gauge what the college does to support transfer students, see the number of transfer students enrolled at that college, and determine whether the school could be a good fit.
The Transfer Profile also serves as a resource colleges can use when evaluating their admissions and recruitment practices to create new strategies to better support the transfer student population.
"The Transfer Honor Roll reflects the growing importance of recognizing and responding to the needs of transfer students," Phi Theta Kappa President and CEO Dr. Lynn TincherLadner said. "We know community college transfer students perform as well as or better than non-transfer students at four-year colleges. It's more important than ever before to highlight what these colleges are doing right to promote transfer success and to encourage others to follow suit."
Members of the 2019 Phi Theta Kappa Transfer Honor Roll are: Antioch University (CA) Appalachian State University (NC) Arizona State University (AZ) Baldwin Wallace University (OH) Becker College (MA) Belhaven University (MS) Carroll College (MT) College for Creative Studies (MI) Columbia College (SC) Cornell College (IA) Dallas Baptist University (TX) DePaul University (IL) Drake University (IA) East Texas Baptist University (TX) Eastern Illinois University (IL) Eckerd College (FL) Friends University (KS) Georgian Court University (NJ) Gonzaga University (WA) Illinois College (IL) Illinois Institute of Technology (IL) Illinois State University (IL) Kean University (NJ) Kutztown University (PA) La Salle University (PA) Lake Forest College (IL) Lakeland University (WI) Lee University (TN) LIM College (NY) Lipscomb University (TN) Long Island University (NY) Loyola Marymount University (CA) Loyola University Chicago (IL) Marian University (IN) Merrimack College (MA) Metropolitan State University of Denver (CO) Miami University (OH) Mississippi State University (MS) Missouri University of Science and Technology (MO) Mount St. Joseph University (OH) Newman University (KS) North Carolina Wesleyan College (NC) North Central College (IL) Northland College (WI) Northwest Nazarene University (ID) Notre Dame de Namur University (CA) Oglethorpe University (GA) Ohio Dominican University (OH) Randolph-Macon College (VA) Rider University (NJ)Rollins College (FL) Rutgers University (NJ) Saint John Fisher College (NY) Southern Wesleyan University (SC) Spring Hill College (AL) Springfield College (MA) St. Edward's University (TX) Stephens College (MO) Stevenson University (MD) Suffolk University (MA) SUNY-Cortland (NY) Texas Lutheran University (TX) The College of Saint Rose (NY) Union Institute and University (OH) University of Arizona (AZ) University of Colorado (CO) University of Kansas (KS) University of Mississippi (MS) University of New Mexico (NM) University of North Texas (TX) University of Southern Mississippi (MS) University of Tampa (FL) Valparaiso University (IN) Webster University (MO) Wichita State University (KS) Wilmington College (OH) Wisconsin Lutheran College (WI) York College of Pennsylvania (PA)
Phi Theta Kappa is the premier honor society recognizing the academic achievement of students at associate degree-granting colleges and helping them to grow as scholars and leaders. The Society is made up of more than 3.5 million members and nearly 1,300 chapters in 10 nations. Learn more at ptk.org.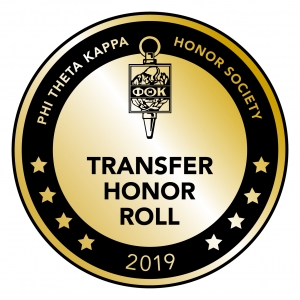 Tags: