Non-Traditional Students
Definition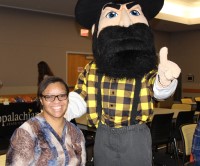 Appalachian values the diversity that our varying student populations bring to campus, classroom discussions, and social organizations. You may identify as a member of our non-traditional student population if you:
Are 24 years old or older
Are married, divorced, or partnered
Are a parent or caregiver of a family member
Are a military veteran, reserve, or active duty
Holistic Admissions
You are a non-traditional student if you are 24 years of age or older. Appalachian reviews non-traditional student applicants through a holistic review process. If you have attempted college coursework since graduating high school, please review our transfer application requirements. If you have not attended college since graduating high school, please review our first-year application requirements. If you do not qualify for admissions through either of these methods, please contact your admissions counselor to discuss additional materials to submit to allow for a holistic review.
Parking
Students who commute daily to Appalachian from an area outside of Boone/off the AppalCart route (typically referred to as "down the mountain") can speak to Parking (in person); they will work with you to try and find the best possible solution for you.
Housing
Boone's off-campus student housing market is often geared to a single rental where students rent an individual bedroom. Finding rentals for couples or families can be more difficult. Below is a list of some rental companies/complexes Off-Campus Student Services recommends for couples or families:
Resources for finding off-campus housing include the Off-Campus Student Housing database and Appalachian's Human Resource Marketplace.
Family Support Resources
The information below will provide you with family support resources including:
Veteran Services
Appalachian is dedicated to helping military-affiliated students thrive on campus and in the community. Resources include the Student Veteran Resource Center, a dedicated staff member who works as a single point-of-contact for student veterans, and a vibrant Student Veteran Association. Visit militarystudents.appstate.edu for more information.
Connect!
Connect and talk with other non-traditional students through our Facebook page. Join today!