Definition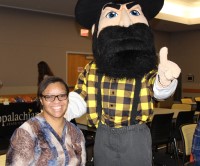 Appalachian values the diversity that our varying student populations bring to campus, classroom discussions, and social organizations. You may identify as a member of our non-traditional student population if you:
Are 25 years old or older
Are married, divorced, or partnered
Are a parent or caregiver of a family member
Are a military veteran, reserve, or active duty
Parking
Students who commute daily to Appalachian from an area outside of Boone/off the AppalCart route (typically referred to as "down the mountain") can speak to Parking (in person); they will work with you to try and find the best possible solution for you.
Housing
Boone's off-campus student housing market is often geared to a single rental where students rent an individual bedroom. Finding rentals for couples or families can be more difficult. Below is a list of some rental companies/complexes Off-Campus Student Services recommends for couples or families:
Resources for finding off-campus housing include the Off-Campus Student Housing database and Appalachian's Human Resource Marketplace.
Family Support Resources
The information below will provide you with family support resources including:
Veteran Services
Appalachian is dedicated to helping military-affiliated students thrive on campus and in the community. Resources include the Student Veteran Resource Center, a dedicated staff member who works as a single point-of-contact for student veterans, and a vibrant Student Veteran Association. Visit militarystudents.appstate.edu for more information.
Glossary of Higher Ed Terms
Higher Education is full of unique terms and App State certainly has its fair share. Some terms make sense or can be figured out rather easily. Other terms are more confusing, even if you have been through the college-going experience previously at another school or witnessed it through the eyes of a family member. This App State-specific Glossary of Higher Ed Terms is intended to help demystify your experience.
Connect!
Connect and talk with other non-traditional students through our Facebook page. Join today!
Events for Non-Traditional Students
Welcome Weekend Non-Traditional Student Social - Sunday, August 16, 1pm. Specifically for our non-traditional students (over 25 years old, married/partnered, have dependents, and/or Veterans), log in to our Zoom room to connect with other non-traditional students, develop a supportive community, and network with dedicated staff from the Non-Traditional Student Working Group.
Non-Traditional Social/Alumni Panel Discussion - Thursday, October 8, 12-1pm. Join other non-traditional students to discuss how the semester is going, great resources and/or must visit places in town, and hear from two non-traditional alumni on their experience at App and what they have accomplished since graduating. Look for the zoom link in your email/Non-Trad FB group in early October.
Non-Traditional Student Work Group