Definition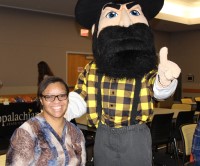 Appalachian values the diversity that our varying student populations bring to campus, classroom discussions, and social organizations. You may identify as a member of our non-traditional student population if you:
Are 25 years old or older
Are married, divorced, or partnered
Are a parent or caregiver of a family member
Are a military veteran, reserve, or active duty
Parking
Students who commute daily to Appalachian from an area outside of Boone/off the AppalCart route (typically referred to as "down the mountain") can speak to Parking (in person); they will work with you to try and find the best possible solution for you.
Housing
Boone's off-campus student housing market is often geared to a single rental where students rent an individual bedroom. Finding rentals for couples or families can be more difficult. Below is a list of some rental companies/complexes Off-Campus Student Services recommends for couples or families:
Resources for finding off-campus housing include the Off-Campus Student Housing database and Appalachian's Human Resource Marketplace.
Family Support Resources
The information below will provide you with family support resources including:
Veteran Services
Appalachian is dedicated to helping military-affiliated students thrive on campus and in the community. Resources include the Student Veteran Resource Center, a dedicated staff member who works as a single point-of-contact for student veterans, and a vibrant Student Veteran Association. Visit militarystudents.appstate.edu for more information.
Events for Non-Traditional Students
Fall 2019 Semester (check back often to see new events posted!)
AppalFest (Friday, September 27) | 1 - 5pm | Sanford Mall)
Join APPS for their annual AppalFest! With make-your-own fanny packs, mini golf, photo booth, paint your own pumpkin and tactical laser tag, this is one event you won't want to miss! Candy apples and hot chocolate/cider will also be available! The festivities kick off at 1:00pm and will run until 5:00pm on Sanford Mall. This event is kid-friendly and open to all students and their families!
Non-Traditional Student Social (Wednesday, October 16) | 6pm Social, 7pm Soccer Game | Booneshine
Non-Traditional Students and their families are invited to a social at the new Booneshine (food and drink costs are the students responsibility). Connect socially with other non-traditional students. At 7pm move down the hill with your new friends to the Ted Mackorell Soccer Complex where you can cheer on the Men's Soccer Team as they take on University of Alabama at Birmingham. A great way to meet other students and kick-off Homecoming Week!
Homecoming Parade (Friday, October 18) | 7pm | King Street, Downtown Boone
Trick or Treating in the Residence Halls (Thursday, October 24) | 5-7pm | East Campus Residence Halls
This event is open to ASU Students, Faculty, and Staff as well as community families. Admission is one canned good or non-perishable food item. All donations will be given to a local charity. Children of all age groups are encouraged to dress in their Halloween costumes to go trick-or-treating through East Campus residence halls. ASU students will be handing out candy and the hall lobbies will have fun activities designed for all ages. Parents and children will need to check-in at the East Hall parking lot (between East Hall and Hwy. 321) to receive a map and further instructions for the evening festivities. Parking is available in any campus faculty/staff parking lot.