On Tuesday, April 24th during the General Education Awards Ceremony, Dr. Katrina "Trina" Palmer was awarded this year's Transfer Champion Award. The Transfer Champion Award was created in 2017 to recognize a faculty, staff, or administrator who has demonstrated exceptional advocacy and leadership in the development and implementation of transfer-focused activities that have made a significant contribution to the improvement of transfer student access, persistence, and success. Transfer students represent approximately one-third of all new students as well as graduates of Appalachian. The support by faculty and staff during their transition and tenure at Appalachian is critical as they navigate a new institution, integrate into a new community of friends and support systems, and achieve academic and leadership success.
Dr. Palmer has been a staunch transfer advocate at Appalachian State University and served on the Transfer Taskforce in 2013, is a Faculty Transfer Mentor, serves on the Transfer Services Team, and is the Mathematical Sciences Transfer Director. As the Transfer Director in her academic department she organizes a STEM Transfer Day for Community College students as well as welcoming events for new transfer students majoring in mathematics.
Four of Dr. Palmer's colleagues nominated her with comments of support such as "while she has helped all of our transfer students in so many ways, it is her ability to talk to them and listen to their concerns that has made her work successful where others might not have been. Her work with transfer services goes beyond any other service commitment I know of in the department" and "She has a keen understanding of the issues that transfer students face. I was a transfer student from a community college many years ago and felt completely lost—if only I had someone like her to support me back then!". Congratulations Trina!
In total ten faculty and staff were nominated for this year's Transfer Champion Award. Other nominees were: Jonathan Billheimer, Nikki Crees, Selena Dollar, Sean Dotson, Bob Gibbard, Denise Goetz, Kim Mitchell, JuanEs Ramirez, and Rhaman Tashikkori. The Office of Transfer Services appreciates the dedication and efforts of all our transfer champions across campus who advocate for the transfer students at Appalachian State University!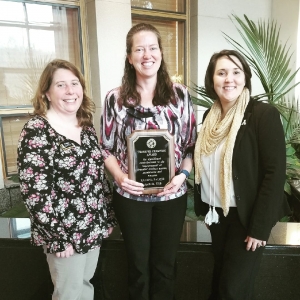 Tags: