Tau Sigma of Appalachian State University inducted 109 transfer students at their Annual Spring Induction Ceremony. Tau Sigma is the national honor society for transfer students and recognizes exceptional academic success. These students distinguished themselves at Appalachian by earning a 3.5 GPA or higher in their first full-time semester. The average GPA for our 2018 inductees is a 3.76 with 20 inductees earning perfect 4.0s. These students represent more than 40 majors on campus including Biology, Graphic Design, Sustainable Technology, Accounting, and Elementary Education
Students participated in the induction ceremony on Sunday, April 8, 2018 in the Reich College of Education building. Cindy Barr, Associate Vice Chancellor for Enrollment Management, welcomed more than 120 attendees at the ceremony. The keynote address was delivered by Dr. Sue Edwards, Vice Provost for Faculty Affairs.
Tau Sigma honored three recipients at the event with the Transfer Star Award. This award recognizes outstanding service on campus by faculty and staff towards transfer students. The recipients selected by students were Nikki Crees, Executive Director of Orientation; Kate Hayes, Administrative Support in the Office of Transfer Services; and Kelly McBride, Coordinator of Information Literacy and Instruction.
The induction known as the Harvest was led by Gaige Cogswell and Holly Parson, President and Vice President of Tau Sigma of Appalachian State University. New members were presented with their certificate, pen, and lapel pin. Tau Sigma is sponsored by the Office of Transfer Student Services. Matt Huntanar, Coordinator of jump Start Appalachian serves as the advisor. For more information please visit tausigma.appstate.edu.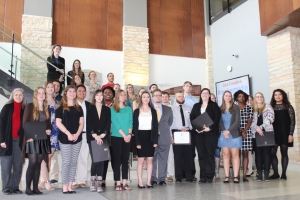 Tags: