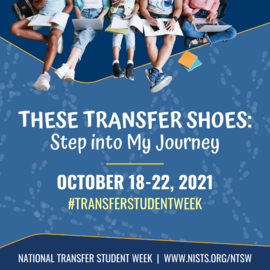 The National Institute for the Study of Transfer Students (NISTS) has declared the third week of October as National Transfer Student Week. This week allows us to celebrate transfer students and their advocates who help(ed) them navigate the transition from one institution to another.
App State Transfers Data Snapshot
1,900 incoming students (fall & spring start) are transfer students each year
72% come to us from a community college
48% of new transfer students are first-generation students
84% retention rate of transfer students from year 1 to 2 (for main campus transfers)
View our Fall 2021 Infographic to learn more about our transfer students.
Events - Current Students
Tau Sigma Induction Ceremony - 10/17, 2pm - 4pm, Blue Ridge Ballroom
Tau Sigma Honor Society will formally induct their newest members!
App Celebrates Transfers—10/18, 10am—2pm, Belk Library Main Floor
Look for our Transfer Services tent in the library as we celebrate YOU with free donuts & Jimmy John's (courtesy of the Library!), highlight transfer statistics, and spin to win prizes.
Tie Dye Party —10/19, 6pm - 8pm
Join the Transfer Student Mentors for this week's Transfer Tuesday in Mountain Laurel Hall to create your own t-shirt!
Transfer Social @ Lost Province's New Location - 10/20, 6pm
Get off campus and meet other students at Lost Province. All ages welcome.
We're Sweet on Transfers - 10/21, 11am-1pm, Plemmons Student Union, Main Level
The most delicious grab and go with cookies from Insomnia. Please stop by our table and help us celebrate YOU!
Hike on the Parkway - 10/21, 2pm - 5pm
Climb Rough Ridge for your best photo of the year! This is a must for all new transfer students!
App State Online Resume Workshop - 10/21, 6:30-7:30pm
Especially for our App State Online students, this virtual workshop from Career Development will teach you all the tips and tricks to create a winning resume. Register on Engage.
Paint Transfer Pride in the Expression Tunnel - 10/23, 2pm - 5pm
Be creative and help the Transfer Student Mentors paint the Expression Tunnel!
Events - Prospective & Admitted Students
We're Celebrating National Transfer Student Week at YOUR NC Community College
Our Transfer Admissions Counselors will be visiting many of our NC community colleges during this week with free food, App State swag, and lots of great information. Check out our complete schedule!
Tour App State!
If you are scheduled to tour App State this week we plan to make it extra special -- all future transfer students will get a free App State swag gift when you check in for your tour!!
Events - Faculty & Staff
Faculty & Staff Workshop - Talking Transfers—10/18 from 2pm - 3pm OR 10/19 from 11am - 12pm
Faculty & Staff are invited to learn more about our transfer student population, how to welcome this population in your classroom, and hear from current transfer students about their experience transferring to Appalachian. Click here to register for a session. Register today!