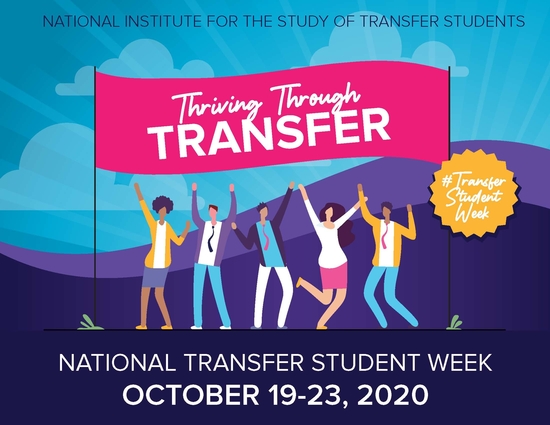 The National Institute for the Study of Transfer Students (NISTS) has declared the third week of October as National Transfer Student Week. This week allows us to celebrate transfer students and their advocates who help(ed) them navigate the transition from one institution to another.
App State Transfers Data Snapshot
1,900 incoming students (fall & spring start) are transfer students each year
70% come to us from a community college
51% of new transfer students are first-generation students
85% retention rate of transfer students from year 1 to 2 (for main campus transfers)
View our Fall 2020 Infographic to learn more about our transfer students.
Events - Current Students
App Celebrates Transfers—10/19, 10am—2pm, Belk Library Main Floor
Look for our Transfer Services tent in the library as we celebrate YOU with free donuts & Jimmy John's (courtesy of the Library!), highlight transfer statistics, and spin to win prizes. Create a thank you video message for your family, friends, advisors and faculty that have helped you with your transfer journey to App!
Pop-Up Transfer Student Center—10/20, 10am—2pm, Sanford Mall
Visit our Pop Up Center on Sanford Mall to have fun playing games, eating candy and creating photos with Yosef at the best spots on campus and on the Parkway with our green screen. Activities led by the Transfer Student Mentors and the Transfer Student Organization.
We're Sweet on Transfers - 10/22, 10am-1pm, Plemmons Student Union, Main Level
The most delicious grab and go with cookies from Insomnia. Please stop by our table and help us celebrate YOU!
Events - Prospective & Admitted Students
Facebook Live: What to Expect as a Transfer - 10/20, 12:30pm, Facebook Live (https://www.facebook.com/groups/appstatetransfers/)
Newly admitted or prospective students can tune in for a FB Live filmed at our Pop-Up Transfer Student Center to learn more about what to expect coming to Appalachian as a transfer student. Our Transfer Student Mentors will share their experiences and provide advice on what you will experience as a transfer student at App? Tune in for answers and to ask your own questions!
Win a free App State T-shirt!
All week long prospective & admitted students can post a video on Instagram stating your name, college you'll be transferring from, and why you want to transfer to Appalachian. Be sure to tag @appstateadmissions and @appstatetransfers. The top ten videos will win a free t-shirt!
Events - Faculty & Staff
Faculty & Staff Workshop - Talking Transfers—10/21, 11am - 12:00pm OR 12:30 - 1:30pm, Online Sessions
Faculty & Staff are invited to learn more about our transfer student population, how to welcome this population in your classroom, and hear from current transfer students about their experience transferring to Appalachian. Click here to register for a session. Register today!