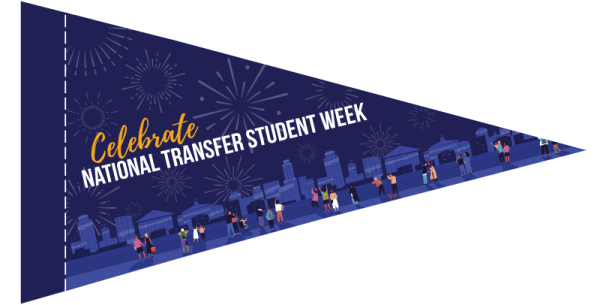 The National Institute for the Study of Transfer Students (NISTS) has declared the third week of October as National Transfer Student Week. This week allows us to celebrate transfer students and their advocates who help(ed) them navigate the transition from one institution to another.
App State Transfers Data Snapshot
1/3 of our incoming students (fall/spring) are transfer students
70% come to us from a community college
40% of new transfer students are first-generation students
86% retention rate of transfer students from year 1 to 2
View additional data information about our transfer students. (Fall 2019 data will updated after census date!)
Events
Your Transfer Story—10/21, 10am—2pm, Calloway Peak (Plemmons Student Union)
We want to share your story with the App campus to highlight the transfer journey. Stop by to complete a story book, enter to win prizes, and connect with other transfer students.
Faculty & Staff Workshop - Talking Transfers—10/22, 11am - 12:15pm OR 12:30 - 1:45pm, Tater Hill (Plemmons Student Union)
Faculty & Staff are invited to learn more about our transfer student population, how to welcome this population in your classroom, and hear from current transfer students about their experience transferring to Appalachian. Register at https://workshops.appstate.edu/detail.aspx?key=1969.
Tau Sigma Trivia Night—10/22, 8:30pm, River Street Ale House
Join the Tau Sigma Honor Society for Trivia Night! Socialize, compete in trivia, and have a blast! Tau Sigma will purchase pizza at 8:30pm for the first 20 transfer student attendees—trivia starts at 9pm. All ages welcome!
App Celebrates Transfers—10/23, 10am—2pm, Belk Library Main Floor
Look for our Transfer Services tent in the library as we celebrate YOU with free donuts & pizza (courtesy of the Library!), highlight transfer statistics, spin to win prizes, and a photo booth!
Transfer Student Mentor Interest Meeting - 10/23, 6-7pm, Whitewater Lounge (Plemmons Student Union)
Learn more about the rewards (intrinsic and extrinsic) of becoming a Transfer Student Mentor as well as the application process.
Pop-Up Transfer Student Center—10/24, 10am—2pm, Linville Falls (Plemmons Student Union)
Visit our Pop Up Center to relax and socialize with other transfer students, study, eat snacks, talk to Transfer Student Mentors & Transfer Services Staff, and connect with some of our campus partners (Counseling Center—10am-11am; Study Abroad Opportunities 11am-12pm; Career Development 12pm—1pm; and Student Learning Center/Study Strategies 1pm-2pm).
Scarowinds with the Transfer Student Organization—10/26
Wind down Transfer Week with a trip to Scarowinds! Great group rates makes this affordable fun! For more info/to sign up email wattsbl@appstate.edu.