Transfer Symposium 2016
Transfer Symposium 2016: Taking the Transfer Symposium on the Road
Taking the Transfer Symposium on the Road:
Connecting with our Community College Partners
Friday, April 8 2016: 8 AM to 4 PM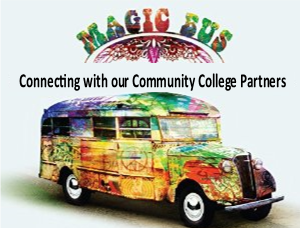 You are invited to join us for a bus trip down the mountain to Caldwell Community College. This magic bus tour will introduce Appalachian faculty and staff to the important work being done at North Carolina's Community Colleges.
Why attend?
Begin a relationship with faculty and staff in your academic area/department that will continue and grow to benefit our prospective transfer students
Connect with colleagues from Caldwell Community College, our largest transfer partner
Tour the Caldwell Community College facilities to see what life is like on a community college
Gain an understanding of the education, support, and services our transfer students receive prior to transferring
Hear directly from students intending to transfer
Itinerary
8:00am Leave ASU from Holmes Convocation Lot
9:30am Welcome: Overview of Community Colleges (both CCC&TI and NCCCS), Student Profile and More!
10:30am Informational Walking Tour of Campus
12:00pm Lunch (Sponsored by Caldwell Community College & ASU Academic Affairs) and Student Panel
1:30pm Roundtable Discussions (Choose 2 to attend): Student Development/Support; Curriculum Development; or Early College
3:00pm Leave to return to ASU
Participant Comments:
"This was one of the most beneficial opportunities I've had in a long time to make connections with other professionals where the results are intended to benefit students. This experience was fascinating and I look forward to the benefits that are sure to be seen across each campus."
"Being on campus at CCCTI helped me have a better understanding of where our students are coming from as well as the differences between their experience at CCCTI & what their experiences might be on campus with us.It was a very good first visit and experience to one of our partner schools."
"It really sparked some new ideas in my mind about how we can do things better here at ASU to help the ECHS applicants and experiences of transfer students. I really enjoyed the student panel."
*The quotations above are from the 2016 Transfer Symposium after-event survey.